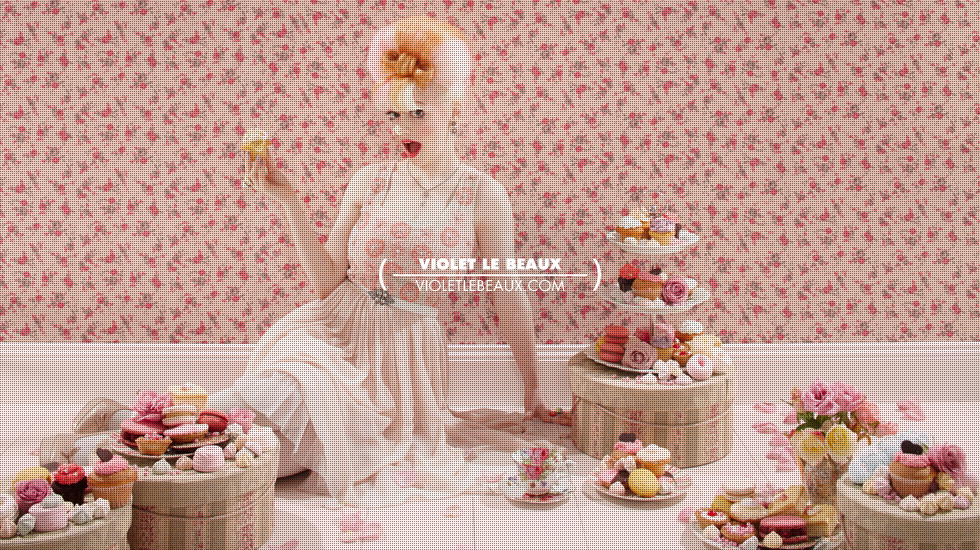 It's hard to believe she was once a green-haired hard core punk swathed in black.
Violet's hair is a glorious puff of white blonde and pastel pink, springing from her head like fairy floss. She looks like a doll that's just been taken out of the box, shiny and magical and smelling of strawberries. She's the frosting on the cupcake, the sweetest of the sweet; it's hard to believe she was once a green-haired hardcore punk swathed in black. She laughs as she talks about the phases she's been through, comfortable she's reached her destination. Her favourite colour is pink, but she likes blue too… the entire rainbow, actually.
Cupcakes and tea parties aside, Violet is an astute businesswoman who now runs her site 'Violet LeBeaux – Tales of an Ingénue' full time, usually while listening to korean pop. She's famous for her sugary-sweet tutorials which showcase her marvellous ability to turn the ordinary into the extraordinary, served always with a smile. Press play and you're greeted with a tinkling pink and yellow cartoon intro, and Violet, cute as a button, the happiest teacher.
With a repertoire so vast, it's hard to choose a favourite hair style. She purses her pink lips before revealing the answer. A one-sided bouffant, with curls coming down. "You know," she smiles sweetly, "like Marie Antoinette's". Oh, of course.